Justice
Category: /General/

(11 views)
0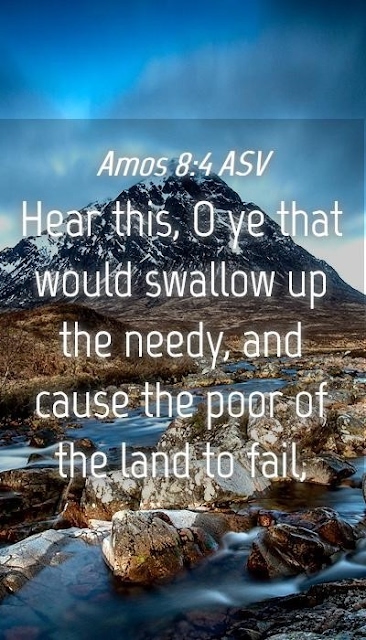 You who trample on the needy,
While swallowing up the poor;
You are being rude and greedy,
For the Word of God, you ignore.
When will the new moon shall be gone,
So that we might sell our grain;
We need to harvest wheat at dawn,
Such a trifling amount of rain.
We may buy the poor for silver,
The needy for a pair of shoes;
The price of chaff I can waiver,
But taking a loss I refuse.
Surely God will never forget,
About any of our deeds;
I have no plans to be in debt,
And enabled to meet my needs.
Shall not the land for this tremble,
Everyone dwelling here grieves;
All the people would assemble,
As the prince of darkness deceives.
On that day the sun will go dark,
Darken the earth in broad daylight;
Darkness reigns to where you embark,
A starless sky resembles night.
God turns your feasts into sorrow,
As your songs to lamentation;
Sackcloth for to wear tomorrow,
Hair loss as a condemnation.
He will make you mourn for your son,
At the end like a bitter day;
For the evil that you have done,
His commandments you disobey.
Copyright ©2022 Richard Newton Sherrer
---
Favorite
Favorite
Comment
Comment
Share
Share
Report an item by sharing it with support.
© individual authors and creators. Create, Share and Profit at
etastic.com
.